Today's post is by Rob Jones, chief blogger and social media coordinator at BuildDirect, an online flooring and building materials firm in Vancouver, Canada. Here, Rob talks about the appeal of travertine tile, treasured and well-used in the Ancient World, and now offering the same imperial qualities to your indoor and outdoor spaces …
***
Marble and granite are well-known for use in commercial applications. Slate is naturally slip-resistant, and ruggedly beautiful too in various settings, both indoors and out. And even limestone gets a look-in when it comes to patios and foyer spaces in the minds of most consumers looking for a sturdy material in a natural stone surface. Yet, travertine has also been a natural stone workhorse for thousands of years and across many cultures.
Travertine is possibly most associated with the Classical era of Ancient Greece, Palestine, and the Roman Empire, when it was a key building material in building residences, municipal buildings, and even the famous Roman Coliseum. As a result, travertine has taken on something of that history, suggesting a sort of imperial air, and sense of permanence.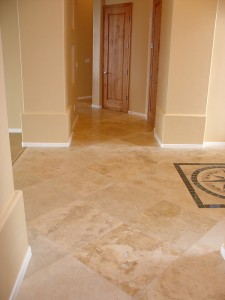 The color range of travertine tile offers gray, tan, beige, golden, and brown tones, with variation from tile to tile, which renders a refined-to-rustically-earthy-appeal. Even if there are associations with its use, you're open to use travertine nearly anywhere, just because of its subtle decorative potential.
But, when it comes to buying and installing travertine as a floor or wall tile, what are your options? What kinds of surfaces and their visual effects are available for you use to transform your space? Let's take a look at three options that stand as the more popular choices for travertine tile surfaces.
1. Honed and Filled Travertine Tile
With this surface treatment, the natural pores in the travertine, once caused by escaping gasses seeping through when the stone was formed, are filled with color-matched cement. Then, the tiles are polished until smooth. For those who like a refined, more pristine look in a stone surface, honed and filled is the perfect choice if you also want the unique color range of travertine.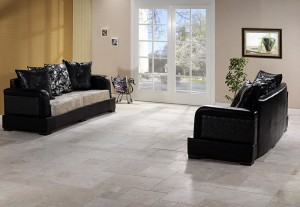 2. Brushed and Chisled
Because travertine is known for its classical look, a very popular choice is travertine that has been artificially aged. The surfaces of the tile have been literally brushed, using a wire implement. And the edges of the tile are similarly treated using, you guessed it, a chisel. The effect is a replication of wear over the course of hundreds of years, giving the space in which brushed and chiseled travertine is installed the look of imperial regality.
3. Tumbled
Another way that this worn, imperial look is achieved is what's called 'tumbled' travertine tile. In the travertine tile tumbling process, the tiles are placed in a machine, with gravel and smaller stone fragments, and then shaken. The smaller stones score the surface of the tile, and that aged effect that so many love is produced.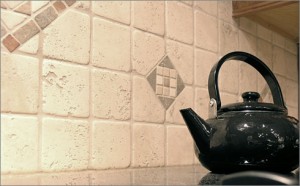 There are of course variations to be found here, with tiles which are only partially filled to gain the best of both worlds when it comes to a smooth tile that shows off the natural pores in the stone. Also, there are multiple tile sizes to consider, which also affects the way the tile will look, from mosaic 1″x1″ tiles, to 24″ x 24″ tile.
But, whatever way the tiles are purchased and installed, the use of travertine surfaces tie your space with a tradition of style that extends back to when civilization itself began. It's hard to match that kind of longevity.
***
You can read more about travertine and other natural stone surfaces from BuildDirect on the BuildDirect blog.